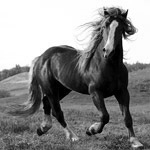 Equine chiropractic care is a recognised treatment for injuries; as well as a method to maintain and improve both performance and well-being of horses. Chiropractic care can play a particularly important role in maintaining and improving performance of finely tuned competition animals who are undergoing intense training regimes. Whether it's a Race Horse, Eventer, Show Jumper, Dressage Horse, working animal, or a family pet, they can suffer from muscle or joint discomfort as much as humans do. In addition, age related conditions can affect our pets. Where suitable, treatment and advice can be provided as a way of reducing discomfort and pain; as well as promoting the long-term comfort and performance of the animal.
---
---
Signs that your horse may benefit from chiropractic care are:
Obvious injury
Changes in Performance
Behavioural changes
Postural changes
Back pain
Stiffness behind
Resenting tacking up
Issues on one reign
Head carriage issues
Poor upwards or downwards transitions
Loss of muscle or weight
Inability to work on the bit
Saddle slipping to one side or uneven shoe wear
Head shaking
---
Equine chiropractic provides an option of care that can correct, maintain, and prevent problems in horses that can cause pain, resulting in poor performance and reduced quality of life. As part of the consultation, we review the factors that may contribute to your horses posture and performance, including:
Carrying an unbalanced rider
Poorly fitting tack
Poor foot balance
Low fitness levels
Poor muscle development
Lack of an effective warm-up and cool down session
Conformational anomalies
---
Ready To Talk?
Is your horse showing any signs of these symptoms? If you wish to discuss the worry or issue with no obligation for treatment, then please contact us!